WooCommerce Theme Builder
Design attractive professional-looking WooCommerce theme without putting much effort. Sell beautifully on your WooCommerce store!
Why use TemplateToaster as a WooCommerce Theme Designer?
This software is designed in such a way that it gives you full control over your eCommerce store. You don't have to be technically skilled either. Design your robust theme with easy layout and styling options. Drag & Drop makes designing simpler and interesting! Keep what looks dynamically stunning.
Demo Video of WooCommerce Theme Builder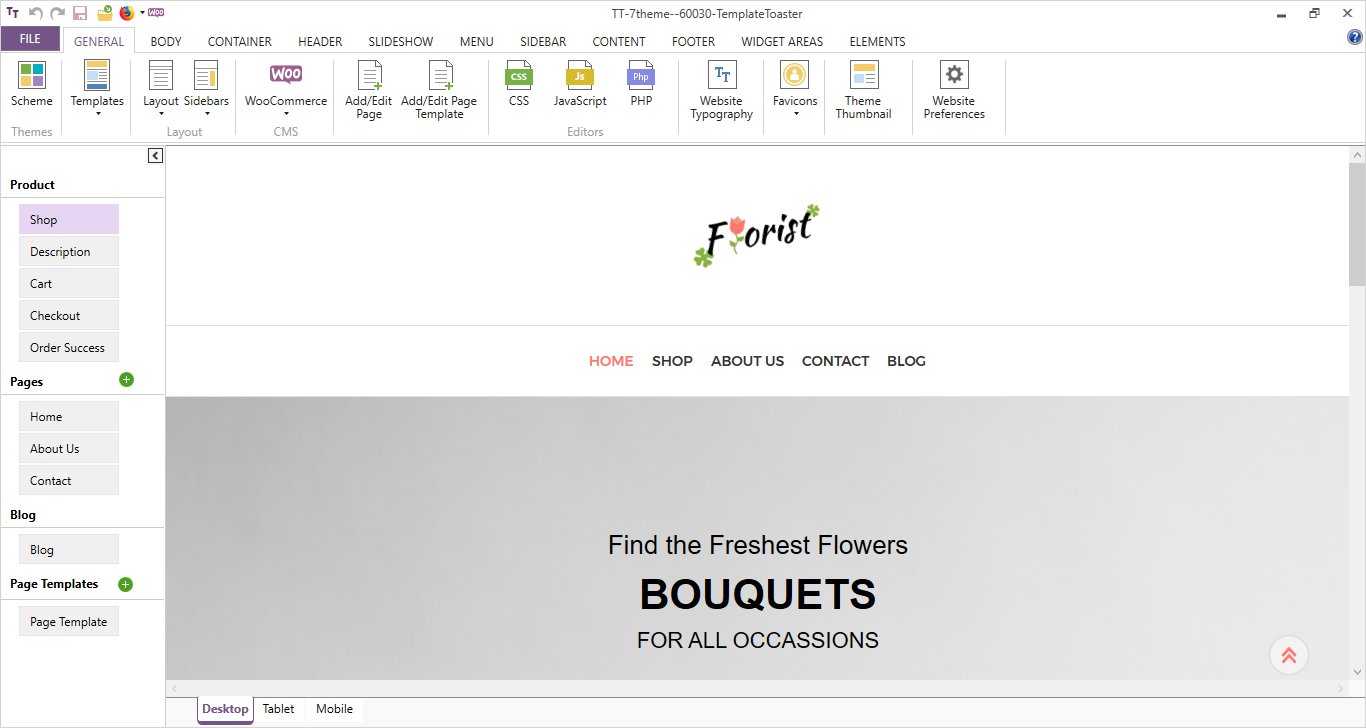 Features of Our WooCommerce Theme Creator
Backpacked with striking features – Design theme using TemplateToaster Software!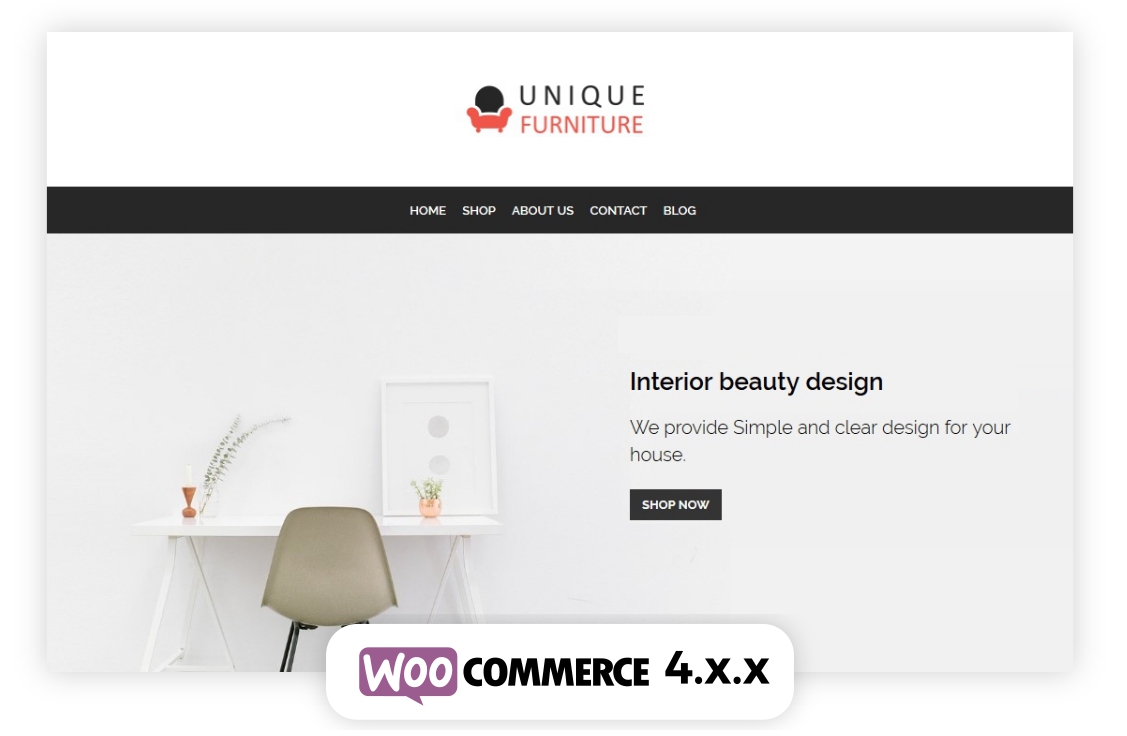 Version Compatibility
TemplateToaster is compatible with the latest version of WordPress and WooCommerce. Design theme with this WooCommerce theme designer are not only visually flawless but seamlessly compatible with these versions. We stay ahead in the game with quick updates!
Page Builder
The advanced visual page builder in TemplateToaster makes it a cakewalk to add responsive tables, rows, columns, etc. directly to your post or page content. This kicks out the need for extra design plugins in this WooCommerce theme designer!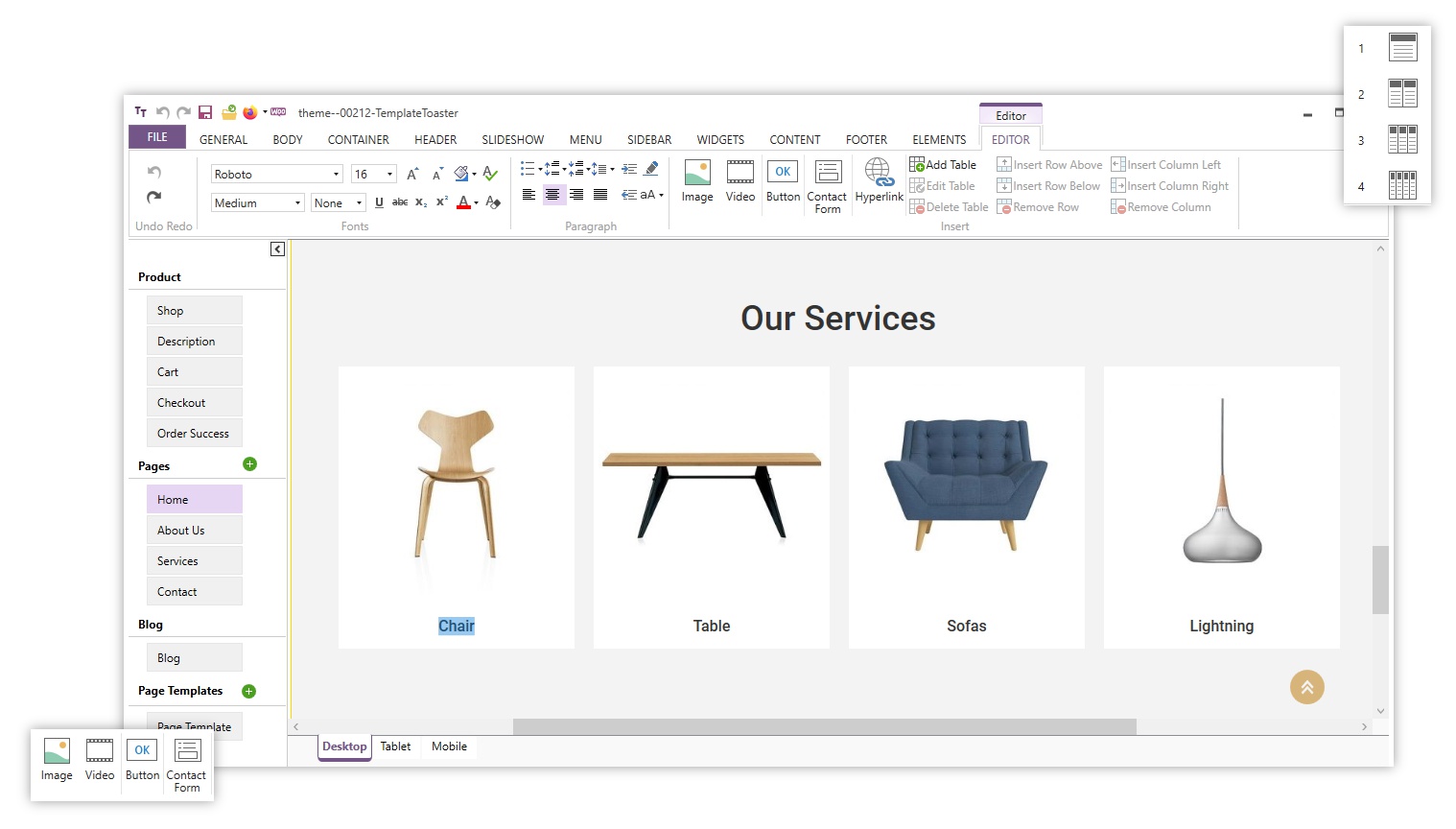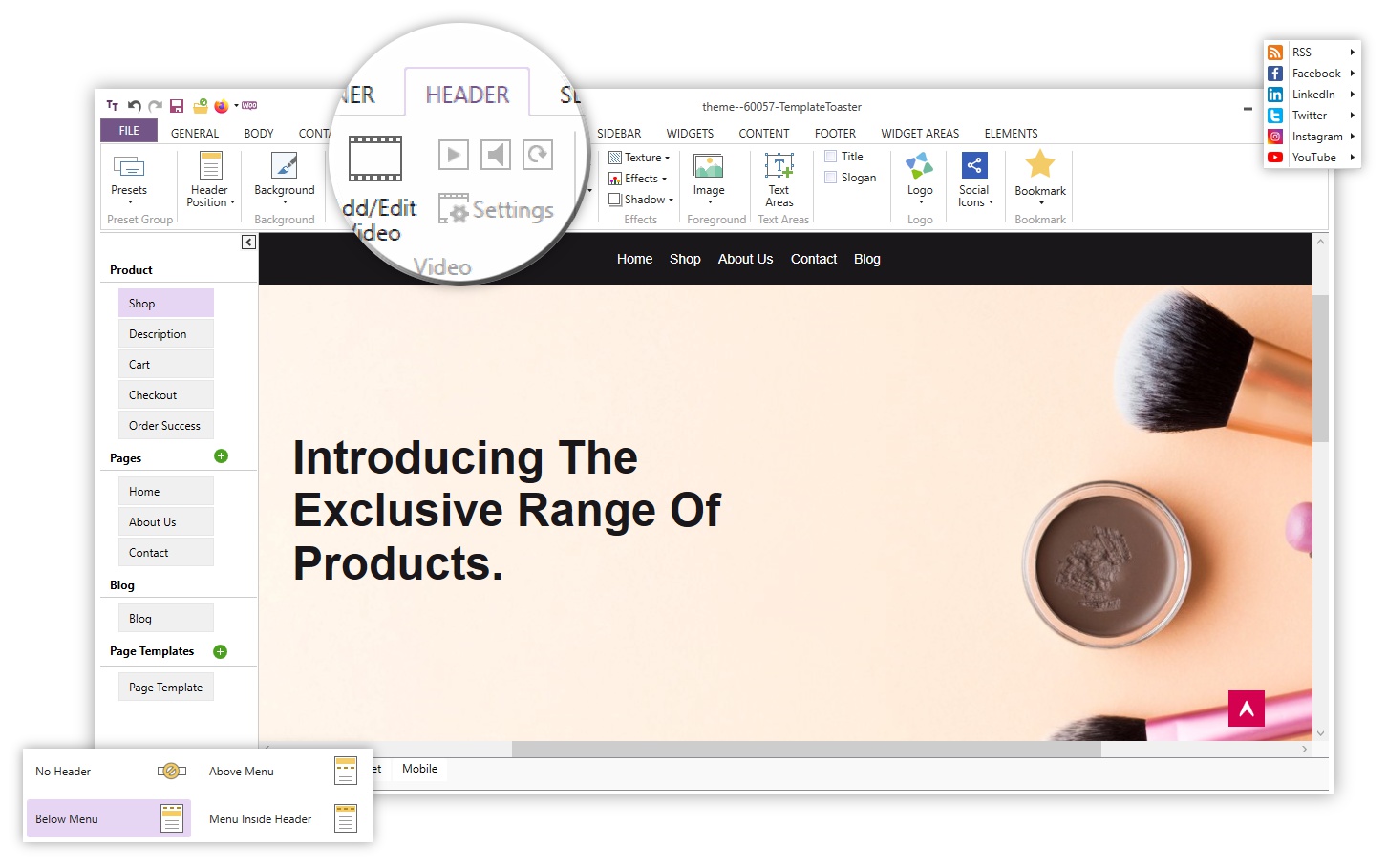 Header Options
This theme builder comes bundled with a ton of Header Options to design a theme that is inviting. Choose from 10 presets for header, add foreground video, logo, social icons, textures, effects, shadow, and much more! The header position can be set below or above the Menu or Menu inside the header.
Checkout Pages
Spark up the checkout page of your WooCommerce store to make that last best impression on the buyer before he leaves your website! Add custom styles to this page by modifying the background color, font styles, font types as per your wish!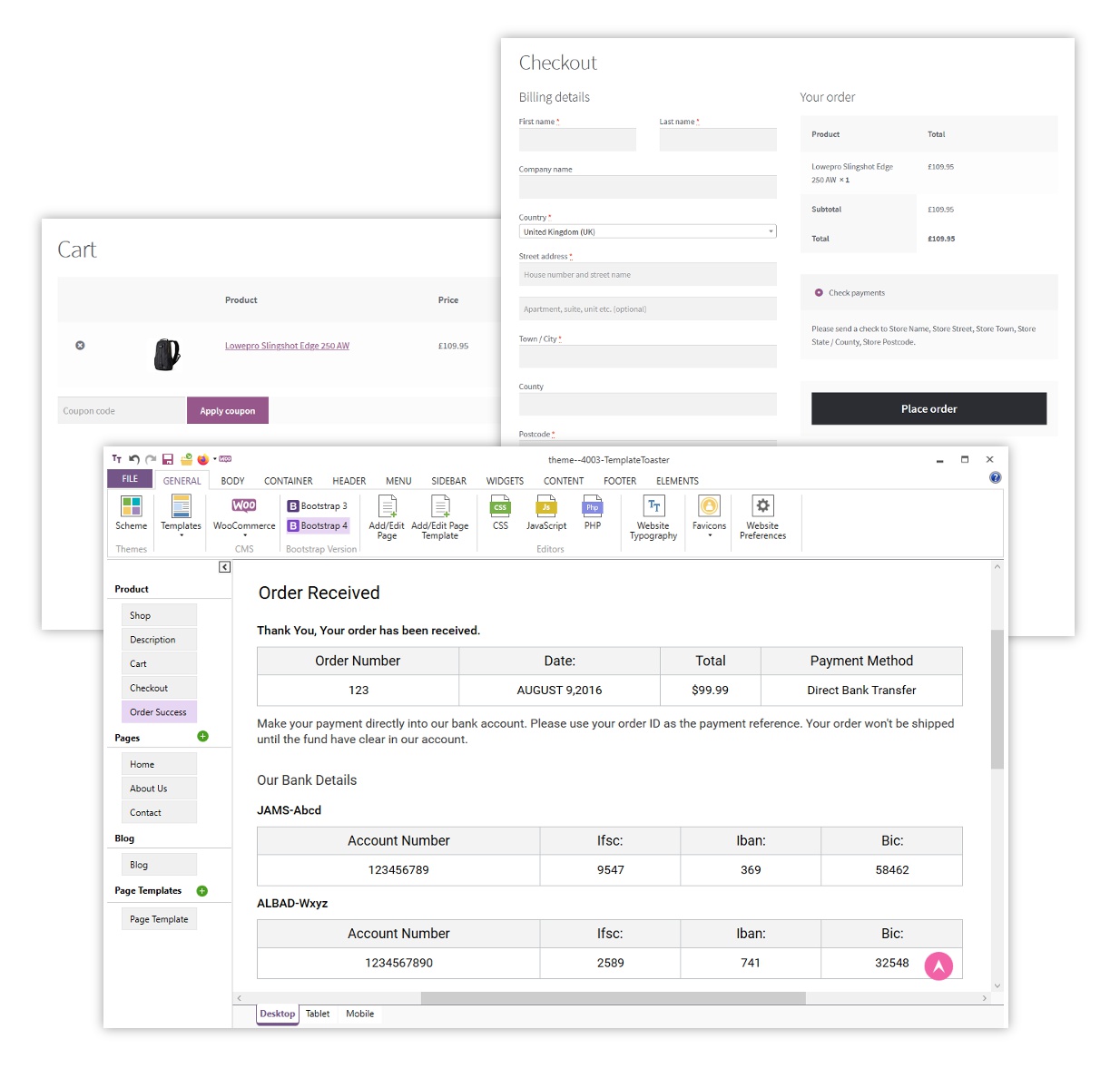 How to Create WooCommerce Theme with this WooCommerce Template Maker Software
Follow these steps to create a WooCommerce website effortlessly.
Choose a pre-designed theme and customize it according to your needs and goals.
Or else design your own beautiful WooCommerce theme from scratch.
We assume you already have a WordPress website, up and running on your host.
Export your WooCommerce theme to your WordPress website and configure it.
There you go! You are ready with your new WooCommerce website.
Testimonials
We could not imagine that getting online and selling stuff online can be this easy for us. After searching for months and trying a bunch of software, we almost lost hope that we will ever find a solution according to our needs. But thankfully, we came across TemplateToaster WooCommerce theme builder. This software has made everything simple for us. Thank you, team.
TemplateToaster WooCommerce theme builder is a must-have tool for any WordPress user. It provides you with a WooCommerce website by adding a professional designer touch to it. Kudos to the designers.
TemplateToaster had great customer support. Initially, I was a bit concerned about how things will take up. But it wasn't a problem at all. I simply love this software for all its features and functionalities.
All the pre-designed WooCommerce theme that I used with TemplateToaster theme builder software were amazing, retina-ready, and high-quality theme. I got the same quality of the website which I was looking for. Thank you to the entire team for providing such useful solutions.
We Offer You Best-in-Class Free Themes For a Quick Start
With our wide-range of WooCommerce template designed by professionals, you can set up a robust online store for a complete eCommerce solution.
All Set to Design Your WooCommerce Website?
Bring real value to your business with our entirely responsive and elegant WooCommerce theme. Or let your creativity out with our inspiring WooCommerce Theme Builder Software.