Blogger Template Maker
Blogger Template Maker that helps you create an ever-wished blog template in a matter of minutes.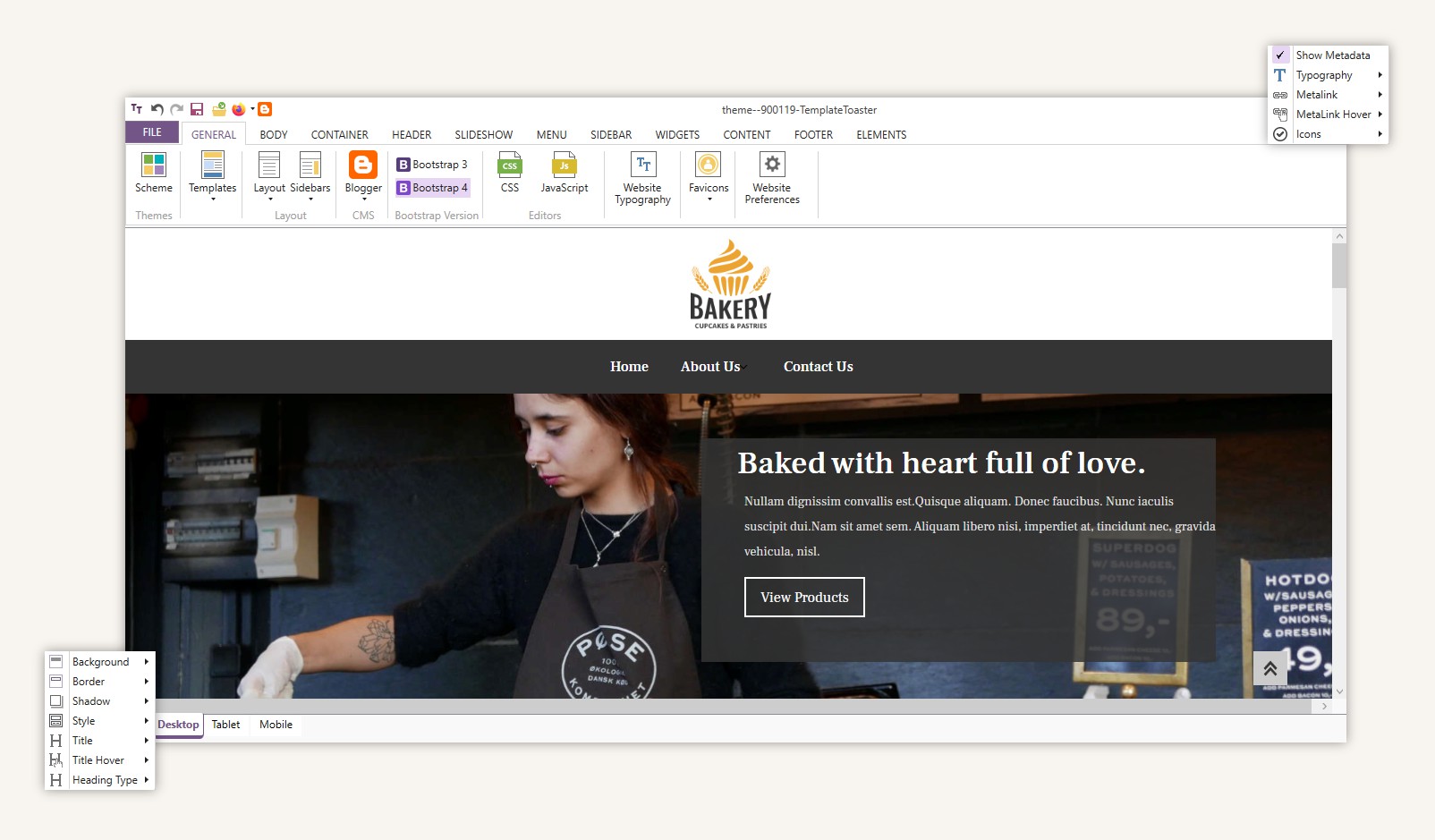 How to create Blogger Template?
Why use TemplateToaster Template Creator Software to Create Blogger Templates?
Create beautiful blogger templates for your site in a user-friendly interface. Give a whole new compelling look to your site and leave your audience spellbound. Create an attractive blog that fits your style without coding skills.
Blogger Template Creator – Demo Video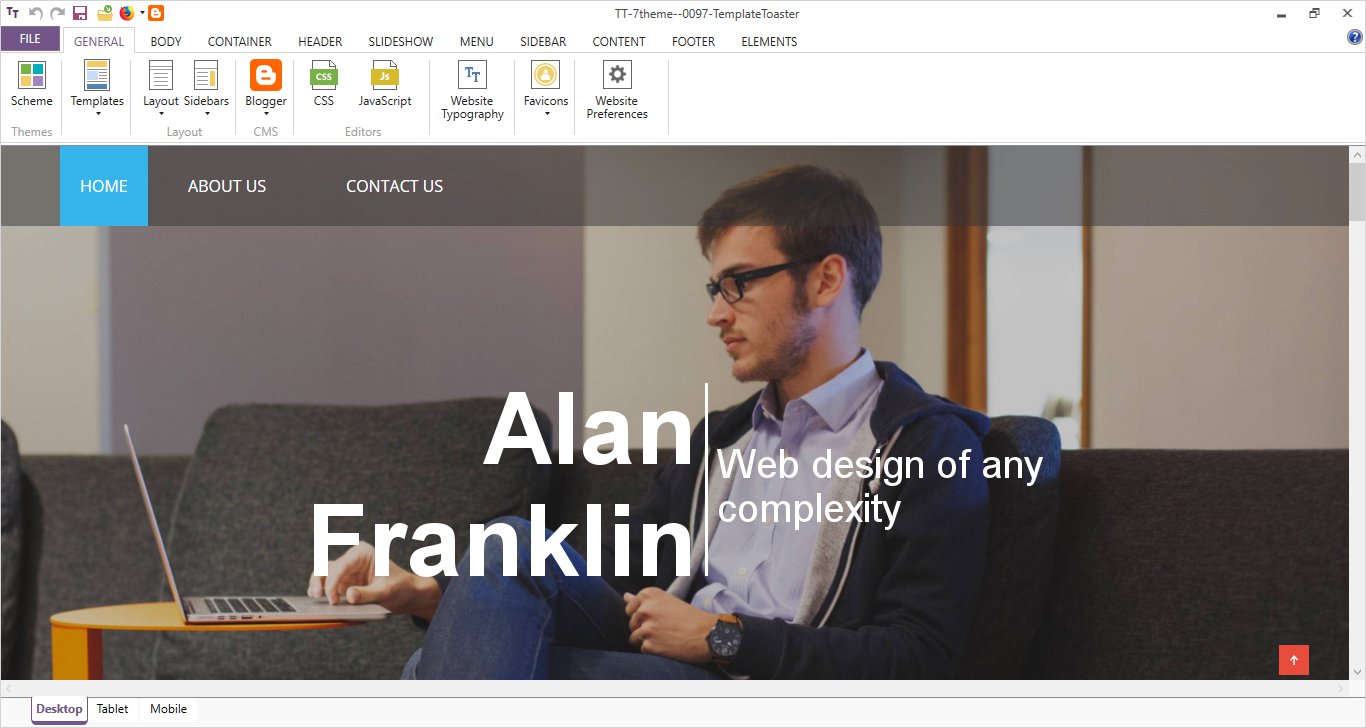 Features of Blogger Website Creator
Brimming with some awesome features, have a look at what this powerful software has to offer.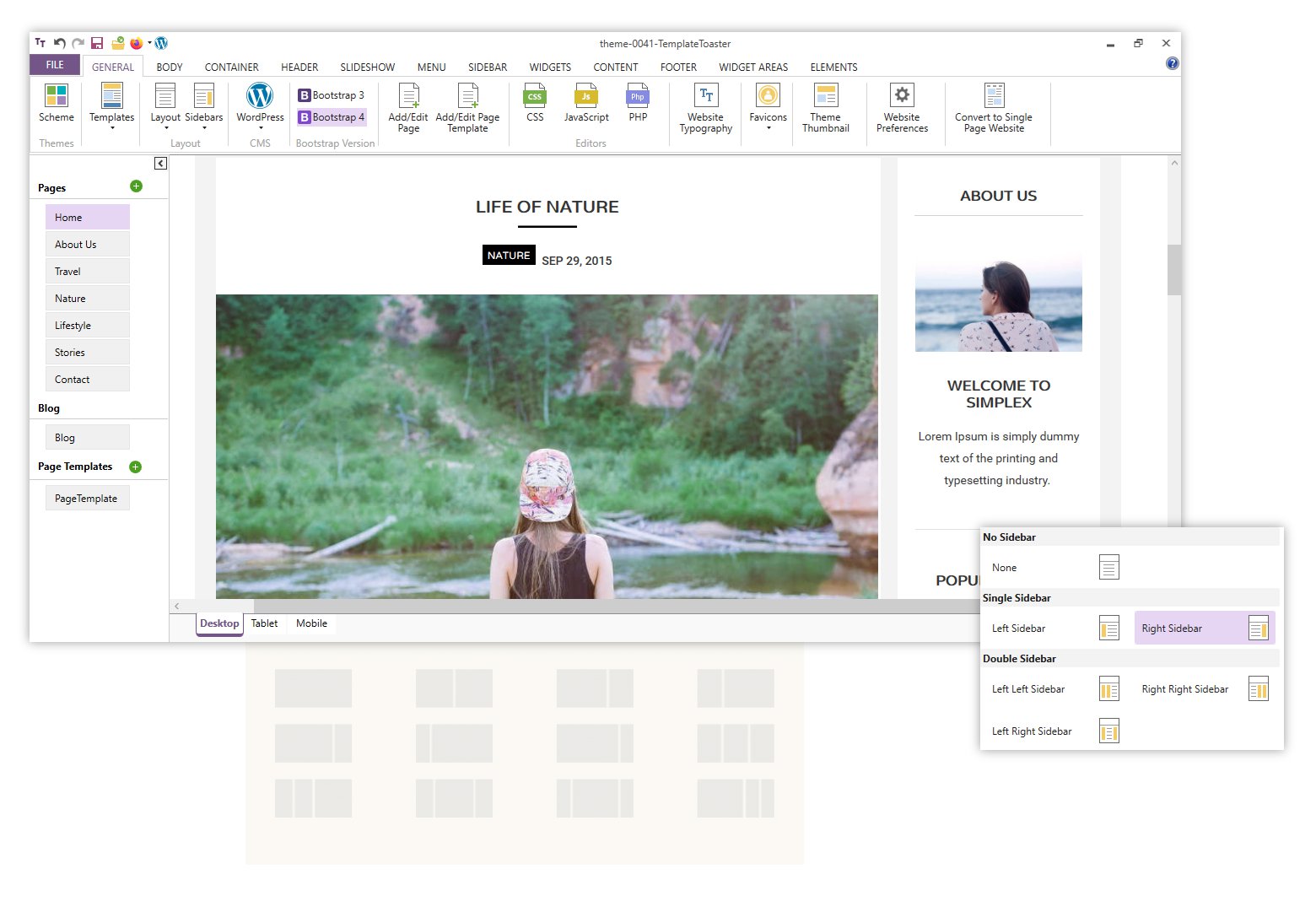 Page Layout Options
Create a blogger template layout and customize its look in your style! Choose from 1 Column, 2 Column (left sidebar, single column, etc.), and 3 Column (sidebar, single column, sidebar, etc.) options to create a Blogger template using it. Add background image or color and change font style, color, etc.
Logo Positioning
Want to enhance the branding factor of your Blogger website? It's imperative to place a logo of your brand/ services for the credibility and authenticity of your site. Using this Blogger template design software, you can place the logo on the menu bar or header, or slider. Choose any position and place it wherever you believe it fits.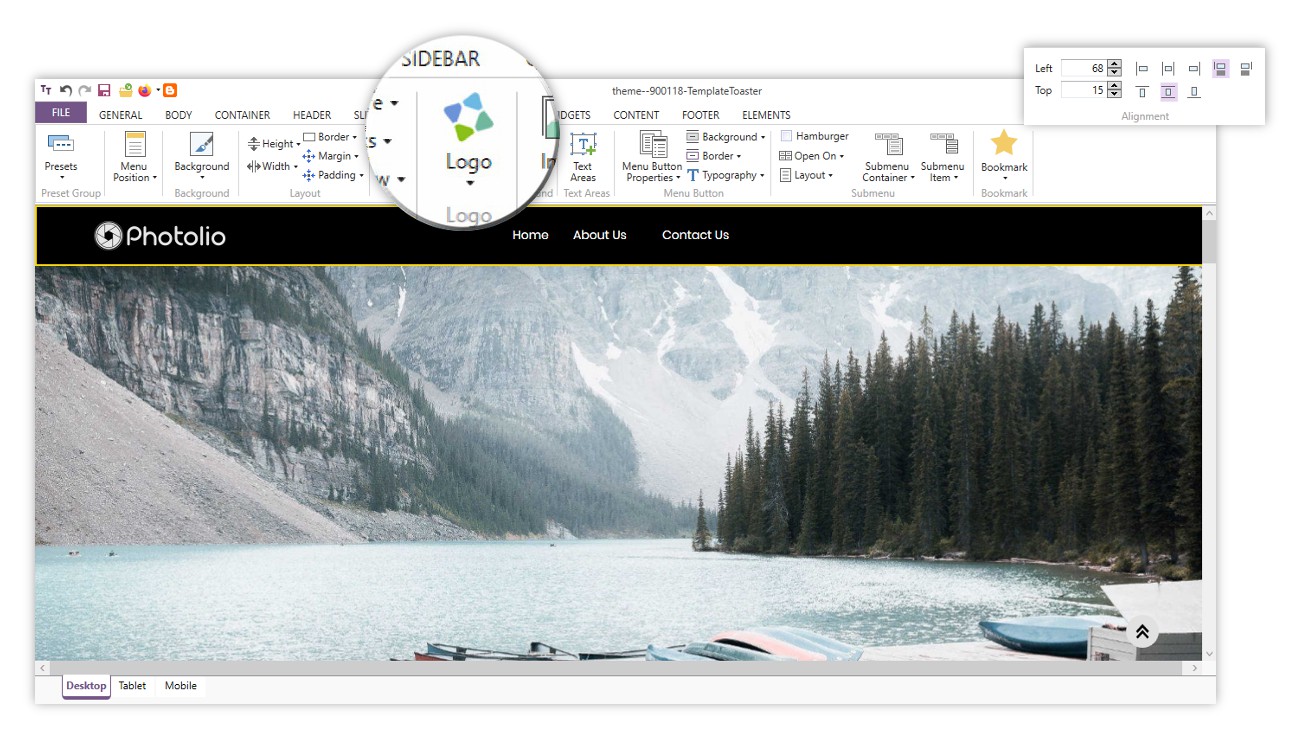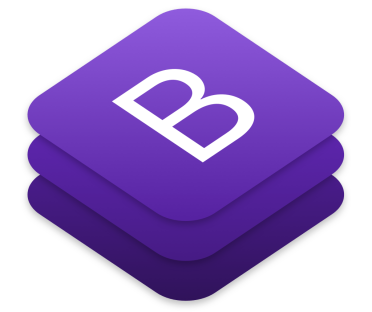 Based on Bootstrap Framework
Blogger templates designed with TemplateToaster are based on Bootstrap which is the most popular front-end framework. It ensures that the templates are highly responsive! Currently, it uses the latest Bootstrap (V5.0). We strive to keep up with the latest updates, always!
Styling Metadata
Make it easy for your visitors to locate clickable links and a sneak-peak of the content they may want to read further! Using this Blogger theme creator, easily style metadata on your blogger template by changing font style, colors, effects, shadows, and much more!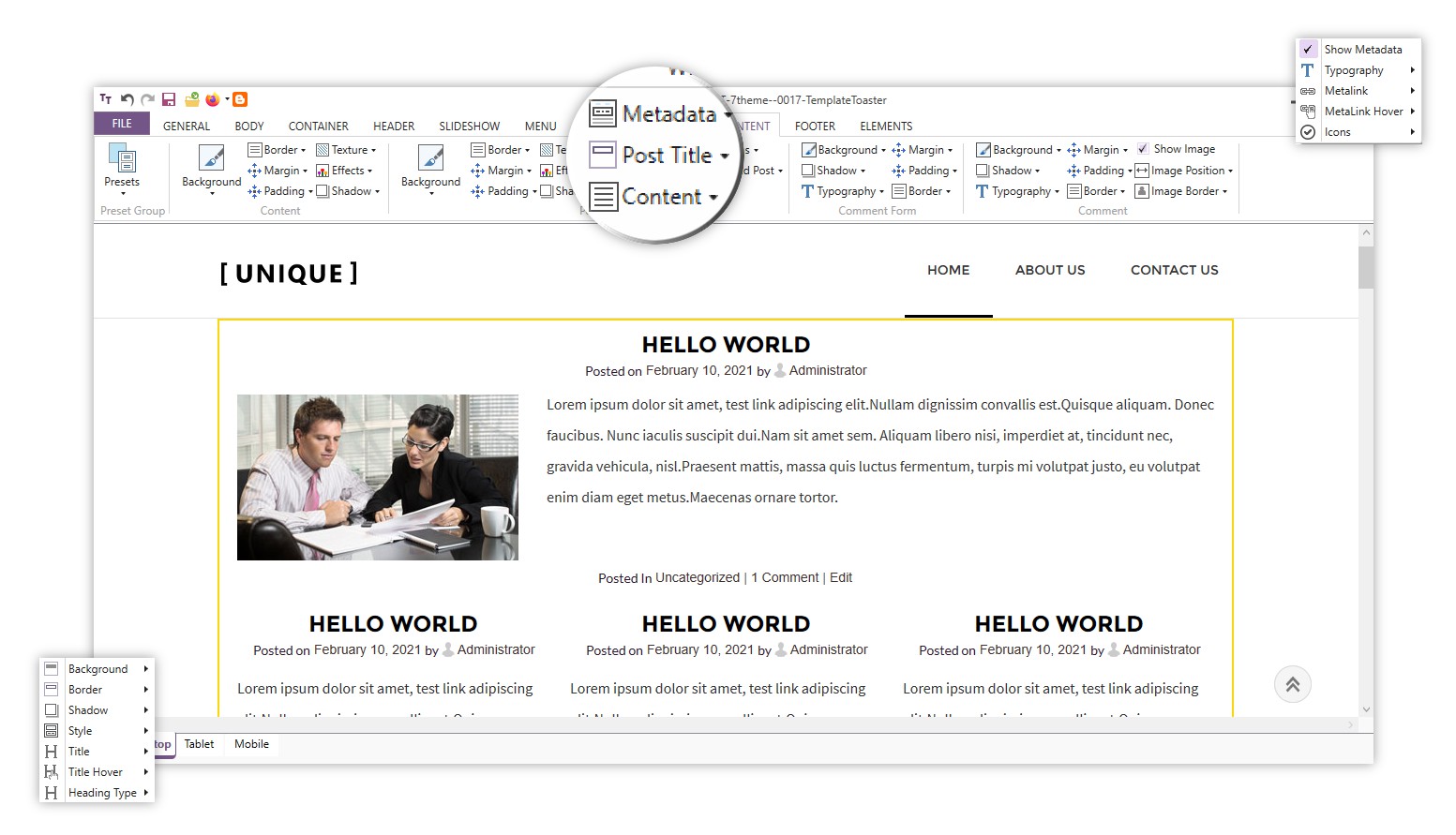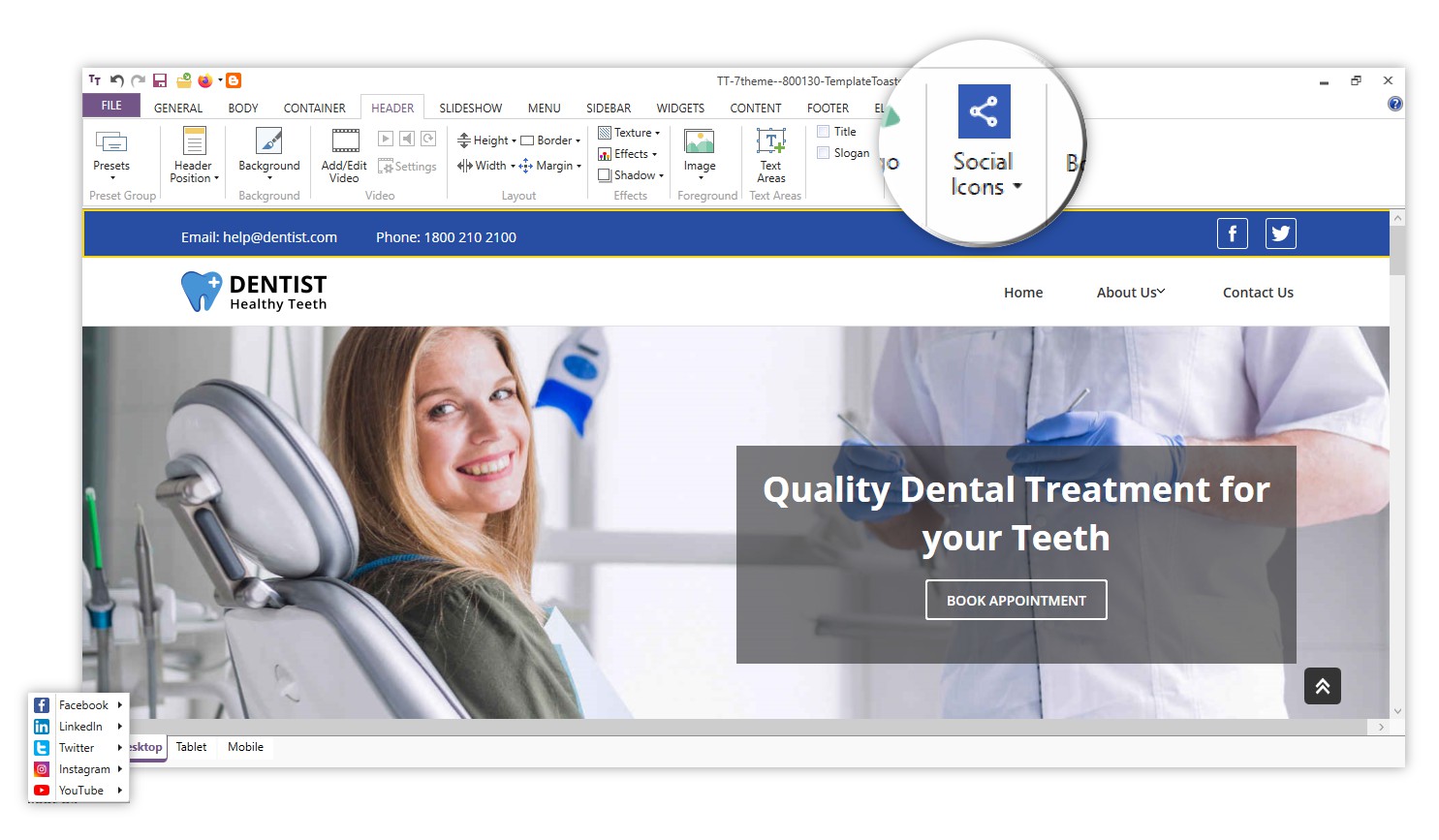 Social Media Icons
Think of a template with no social media links! What would be your thought about that site? Surely not a good one! Add clickable social media icons either in the header or in the footer of the page/template or both using it. Turn site visitors into followers in no time!
How to Create a Blogger Template with this Blogger Template Maker Software
Here are the steps to follow to create a blogger template.
Select a blogger template available in the TemplateToaster Blogger templates library.
Customize it according to your blog needs with our user-friendly interface.
You can also create your own custom template from scratch using all the options.
Now, login to your Blogger account and install your template here.
Interact with your readers by replying to their comments and increase traffic to your blog.
Here is what our Happy Customers have to say
If any website building beginner asks me to recommend a superbly working Blogger website builder, then I will surely say TemplateToaster without a second thought. I am really impressed with this software.
TemplateToaster Blogger Template Maker software is an excellent choice that works two ways i.e. a solution that creates websites that loads perfectly on mobile devices as well as personal computers.

Thanks to TemplateToaster  I can now use the latest Bootstrap version 5 compatible theme designs. Honestly! I had a great time building professional websites using these high-quality website templates.
Francisca Marie
If you are looking for a responsive, fresh, and data-driven website, then you using this blogger template maker software is all you need. I see no other option in comparison to TemplateToaster.
Using TemplateToaster blogger template maker has made my project creation similar to a lego game. Yah! That's simple. So, thanks to each and every member of their team.
Choose From Selection of Easy-to-Use Templates
Each template comes with the flexibility to customize the layout according to your needs. Or you can design something new!
All-in-one Blogger Website and Blogger Template Creator Software
We believe creating an eye-catching website should be easy. Thus, we designed an elegant and powerful Blogger Template Creator for you.